There are many types of railway parts, and rail fishplates are just one of them. Although railway fishplates are a small accessory on the entire railway switch, it is also an important part of the railway switch and plays an important role in it. Railway fish plates on the market can also be divided into different types according to different models and materials. When purchasing and applying rail joint bar, users can choose suitable rail fishplates according to different application environments and actual needs.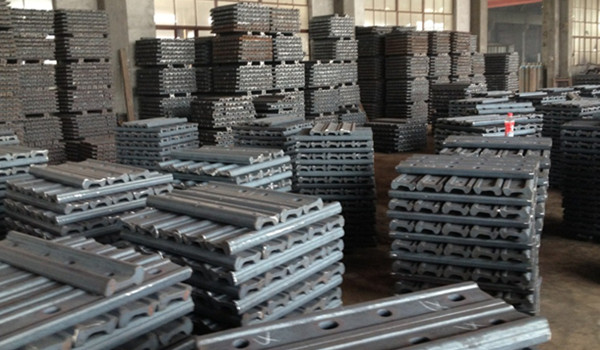 rail fishplates, with screw holes in the middle, upper and lower sides along the horizontal axis of the screw holes are provided with an upper working surface contacting the lower part of the rail head, and a lower working surface contacting the upper part of the rail bottom. The rear part of the working surface extends upward to form a transition section higher than the rail surface, and the transition section forms a bridge arch with a middle height and low ends along the length of the railway fish plates. The bridge-shaped railway fishplates have a simple structure, which can reduce the impact of the wheels on the rail joints, increase the continuity of the longitudinal deformation of the rails at the joints, and improve the smoothness of the train when passing through.
In order to ensure the overall safety of railway turnouts, it is composed of the safety of each component. Therefore, although rail fish plates are small, they play a large role in railway turnouts. For the normal operation of railway turnouts, necessary inspection and maintenance should be carried out on railway fish plates.
Railway fish plate, also known as rail joints or rail joint bar, is a connection fastener used for the connection between the track and the track. The main function is to fix the steel rail to the sleeper or rail fastening system, except for certain In addition to the pressure, it must be able to withstand the vertical force, lateral force and longitudinal force from the rail. In order to avoid the three-way force from causing excessive deformation, resulting in a large train swing, reducing ride comfort and even affecting driving safety, the commonly used types of fasteners are mostly shrapnel or rail clips, two elastic fastening systems, rail fishplates Compared with

rail splice

bar, it has the characteristics of following the deformation of the rail, not easy to relax, and superior in fatigue resistance.