What is a railway frog bolt?
Railway frog bolts are an important part of railway bolts. It is made of medium carbon or alloy steel through heat treatment. It is generally used for railway frogs and crossings and comes with heavy square nuts upon request.
Railway frog bolt specifications:
Size: Dia.3/4"--1-1/8"
Length: 1-1/2"--6-1/2"
Standard: Aremar & SAE J429
Grade: Gr2, Gr5, Gr8
Surface: Black, Zinc Plated
Classification of railway frog bolts:
Frog bolts come in various lengths and diameters, depending on the rail part used and the bolt position in the frog.
Frog bolts are generally divided into two categories: 1. Square Head Frog Bolts 2. Button Head (oval neck or elliptical neck) Frog Bolts
1. Square Head Frog Bolts Size:



Square Head Frog Bolts

Dia-TpI

Length

F

H

Nuts

D

L

Thickness

Width Across Flats

3/8-16

Over 6 inthes

9/16

1/4

3/8

11/16

1/2-13

3/4

21/64

1/2

7/8

5/8-11

15/16

27/64

5/8

1-1/16

3/4-10

1-1/8

1/2

3/4

1-1/4

7/8-9

1-5/16

19/32

7/8

1-7/16

1-8

1-1/2

21/32

1

1-5/8

1-1/8-7

1-11/16

3/4

1-1/8

1-13/16

1-1/4-7

1-7/8

27/32

1-1/4

2

1-3/8-6

2-1/16

29/32

1-3/8

2-3/16

1-1/2-6

2-1/4

1

1-1/2

2-3/8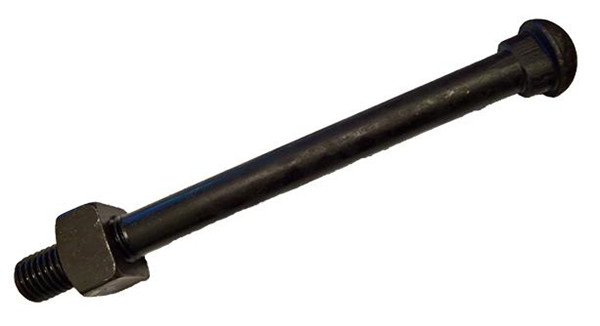 2.Button Head Frog Bolts or Oval Neck Frog Bolts Size:
Dia-TpI

Length

Head

Oval Neck

Nuts

D

L

A

H

R1

R2

O

R

P

Thickness

Width Across Flats

3/8-16

Over 6 inthes

11/16

15/64







17/32

33/64

3/16

3/8

11/16

1/2-13

7/8

5/16

11/16

9/32

5/8

19/32

5/16

1/2

7/8

5/8-11

1-5/64

25/64

59/64

23/64

13/16

25/32

3/8

5/8

1-1/16

3/4-10

1-9/32

15/32

1-5/32

7/16

1-1/16

1-1/32

7/16

3/4

1-1/4

7/8-9

1-31/64

35/64

1-25/64

33/64

1-7/32

1-3/16

1/2

7/8

1-7/16

1-8

1-11/16

5/8

1-5/8

19/32

1-3/8

1-11/32

9/16

1

1-5/8

1-1/8-7

1-57/64

45/64

1-55/64

43/64

1-17/32

1-1/2

5/8

1-1/8

1-13/16