Rail anchors are one-piece structural anchors made of spring steel. Rail anchors are used at the bottom of the rail to prevent longitudinal movement of the rail.
How Rail Anchors Works?
Rail anchors are directly applied to the rail baseplate and provide a larger supporting surface against the rail baseplates and rail tie plates, thereby preventing wear and cutting, and ultimately extending the service life of the rail tie plates. According to the specific rail weight and foundation width, rail anchors can be divided into two types: drive-free rail anchors and spring-loaded rail anchors.
Application rules of rail anchors:
1. The railway anchors should be located on the gauge length side of the rail baseplates, opposite to the same fastening surface on the opposite rail.
2. The rail anchors must firmly fix the rail baseplates and fully support the rail connection surface.
3. When the bearing of the rail anchors on the strut is disturbed, new rail anchors and rail baseplates are needed.
4. Do not move the rail anchors by driving the rail anchors along the rail.
5. When applying rail anchors, keep the pull rod straight.
The position of rail anchors:
Usually, rail anchors are used in certain locations on the railway. When using rail anchors, take a 39-foot rail as an example, it is usually recommended to use 8 rail anchors, as shown in the figure below. As the steep slope increases, the number of rail anchors may increase.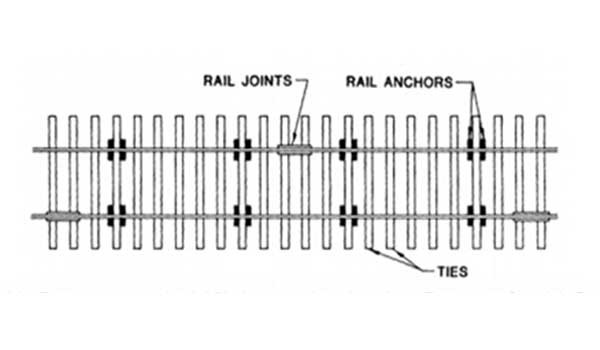 1. Rail anchors are used to approach the rails of open deck bridges. Every third tie should be fixed at least two rail lengths at both ends of the bridge.
2. As a railway crossing using rail anchors, every third tie should be box anchored for at least two rail lengths in all directions from the crossing.
3. The rail anchors in the railway switch are optional. The use of rail anchors in turnouts helps correct geometric problems.
Types of rail anchors:
1. Rail anchors are usually used for rails such as 50kg, 85kg, UIC54, UIC60, 90/91lb, 115RE, 136RE, etc. We can produce T-shaped or V-shaped rail anchors and other types through forging or casting according to customer requirements.
Material: 60Si2MnA, 45#, QT500-7
Surface: ordinary (oiled), color spray paint, galvanized or hot-dip galvanized
Standard: AS1085.10-20002, DIN, ISO-9001
2. The raw material used for rail anchors of 50kg, 70lb, 80lb, 90/91lb rails is 60Si2MnA.
| Type | Material | Weight(g/pc) |
| --- | --- | --- |
| 50Kg | 60Si2MnA | 800 |
| 70LB | 60Si2MnA | 800 |
| 85LB | 60Si2MnA | 800 |
| 90/91LB | 60Si2MnA | 800 |
3. Rail anchor for the Russian market: high-grade ductile iron castings. Russian rail anchors are usually made of QT400-15 material and are used for railways in casting. All its related mechanical properties strictly comply with the TOCT 7293-85 standard.