Steel rails, also known as railway tracks or railway rails, are the main part of the railway. Its function is to provide a continuous, smooth rolling surface with minimal resistance for the train. Most modern railways use continuous welded rails (CWR) to make trains travel faster with less friction. The steel rails are under a lot of pressure when the train passes by. The pressure is transmitted to the sleepers and the subgrade. Railway fasteners fix the rails in place to ensure safe operation.
Steel Rail Applications:
Railway tracks are used in high-speed rails, light transportation, heavy-duty rails, trams, subways, factories, mining rails, traction rails in forest areas and other industrial fields. In electrified railways or automatic transmission areas, the steel railway can also be used as a track circuit.
Types of steel rails:
Types of steel rails in China:
1. Crane rail: QU120, QU100, QU80, QU70. Most of them are composed of manganese steel.
2. Heavy rail: 38kg, 43kg, 50kg standards are widely used. In addition, for some high-speed, large-capacity lines, they all use 60kg rails.
3. Light rail: Light rail can also be divided into two types: GB (Chinese National Standard) 9kg, 12kg, 15kg, 22kg, 30kg/m and YB (Metallurgical Department Standard) 8, 18, 24kg/m, etc. .
Types of foreign steel rails:
In the world railway market, there are many typical rail types. For example, the British BS series (such as 90A, 80A, 75A, 75R, 60A, etc.), the German DIN series, the American ASCE series (such as 115RE, 136RE), the Japanese JIS series and the International Railway Union UIC series (such as UIC54 , UIC60).
Hot-selling railway track types:
Standard

Sepc.

Material Typical Grade

UIC860

UIC54

700,900A,900B

UIC60

EN13674.1

50E1

R200,R350HT,R260Mn,

R35LHT,R320Cr,R370CrHT

54E1

60E1

60E2

BS-11-1985

BS80A

700,900A,900B

BS90A

BS100A

AREMA

115RE

SS,HH,LA,IH

136RE

ASCE60

U71Mn

ASCE85

U71Mn

GB 2585-2007

50kg/m

U71Mn
U75V

60kg/m

75kg/m

TB/T2344-2012

50kg/m

U71Mn,U75V,U77MnCr
U78CrV

60kg/m

75kg/m

GB 11264-1989

8kg/m

Q235

12kg/m

Q235

15kg/m

55Q, Q235

18kg/m

55Q, Q235

22kg/m

55Q, Q235

24kg/m

55Q, Q235

30kg/m

55Q, Q235

38kg/m

50Mn, U71Mn

43kg/m

50Mn, U71Mn

GB Crane rails

QU70

U71Mn

QU80

U71Mn

QU100

U71Mn

QU120

U71Mn
Typical steel rails standards:
Steel rails can be divided into GB standard, BS standard, AREMA standard, UIC standard, JIS standard, Australian standard and many other types.
1. GB Standard Rail
According to the railway track weight of GB standard, 43kg, 50kg and 60kg are widely used in railway transportation.
1) 43kg/m rail track size
| | |
| --- | --- |
| project | 43kg/m rail steel |
| Height of steel rail | ±0.8 |
| Width of railhead | ±0.5 |
| Rail on cross section | |
| Joint plate mounting surface slope | |
| Joint plate mounting surface height | ±0.6 |
| The thickness of the rail waist | |
| Rail bottom width | |
| Rail bottom edge thickness | |
| Rail bottom concave | |
| Section slope (vertical, horizontal direction) | <=1.0 |
| Section of asymmetric | ±1.5 |
| Length (temperature of 20 degrees) | |
project

number

unit

weight of per meter

44.563

kg

sectional area

57

cm²

the distance between

center of gravity and rail base

6.9

cm

moment of inertia on horizontal axis

1489

cm4

moment of inertia on vertical axis

260

the lower section coefficient

217.3

cm3

the upper section coefficient

208.3

the bottom section coefficient

Left45.0 right 45.0

metal distribution

railhead

42.83

%

rail web

21.31

rail base

35.86
2) 50kg/m rail track size
project

50-75/m

Height of steel rail

±0.6

Width of railhead

±0.5

Rail on cross section

Joint plate mounting surface slope

+1.0
-0.5

Joint plate mounting surface height

+0.6
-0.5

The thickness of the rail waist

+1.0
-0.5

Rail bottom width

+1.0
-1.5

Rail bottom edge thickness

+0.75
-0.5

Rail bottom concave

Section slope (vertical, horizontal direction)

<=0.8

Section of asymmetric

±1.2

Length (temperature of 20 degrees)
project

number

unit

weight of per meter

51.514

kg

sectional area

65.8

cm²

the distance between center

of gravity and rail base

7.1

cm

moment of inertia on horizontal axis

2037

cm4

moment of inertia on vertical axis

377

the lower section coefficient

287.2

cm3

the upper section coefficient

251.3

the bottom section coefficient

left&right 57.1

metal distribution

railhead

38.68

%

rail web

23.77

rail base

37.55
3) 60kg/m rail track size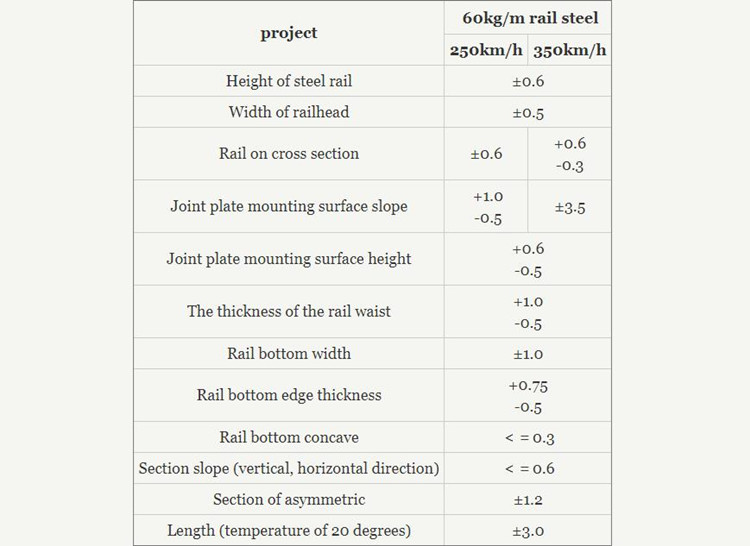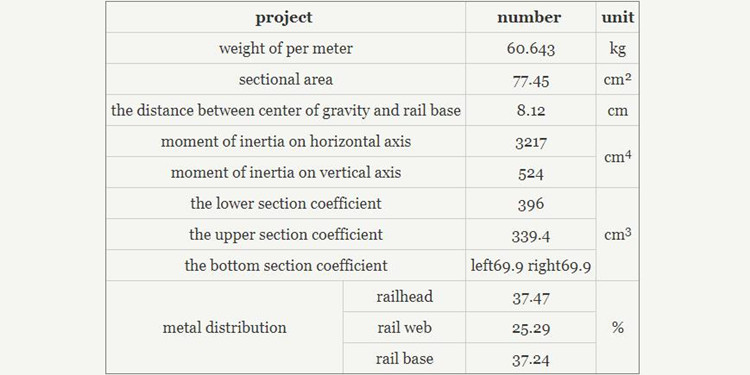 2. AREMA standard railway track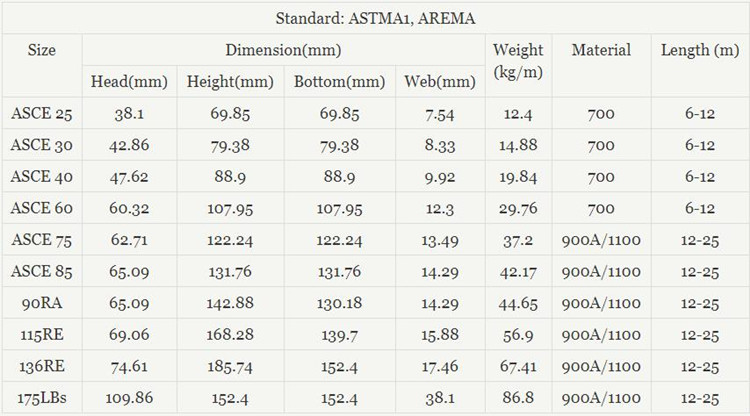 3. BS standard railway track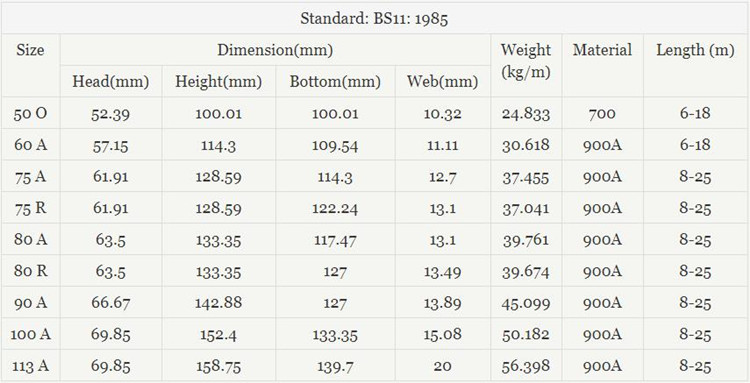 4. UIC standard railway track

5. JIS standard railway track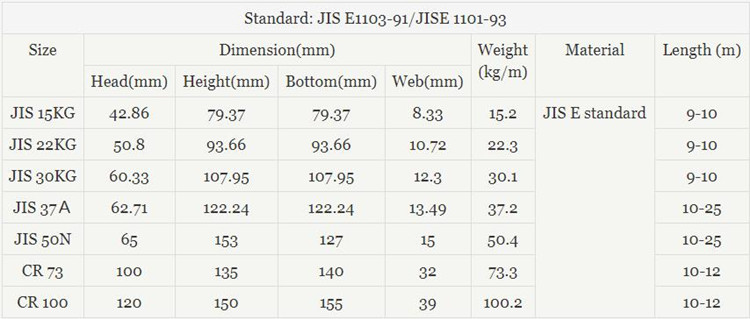 6. DIN standard railway track

7. ISCR standard railway track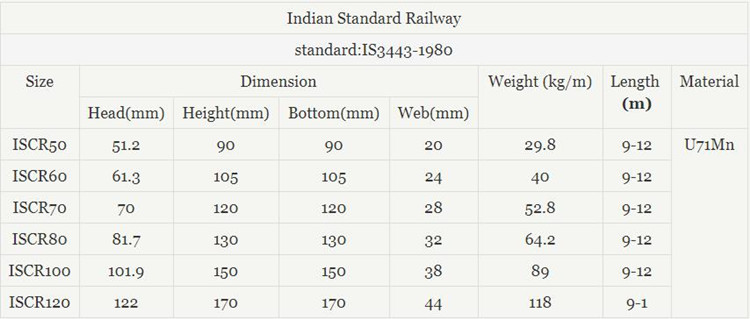 8. Australian standard railway track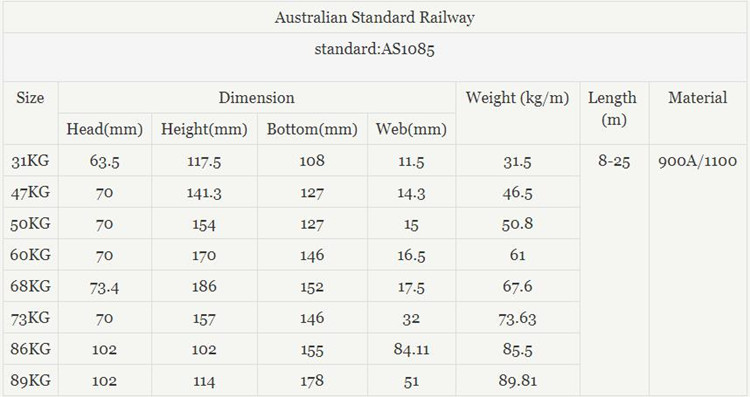 9. South African standard railway track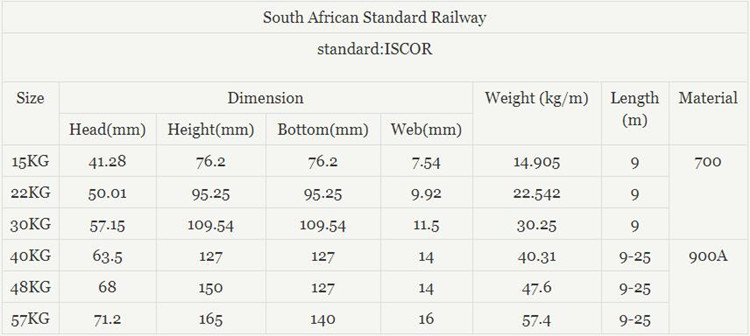 10. EN standard railway track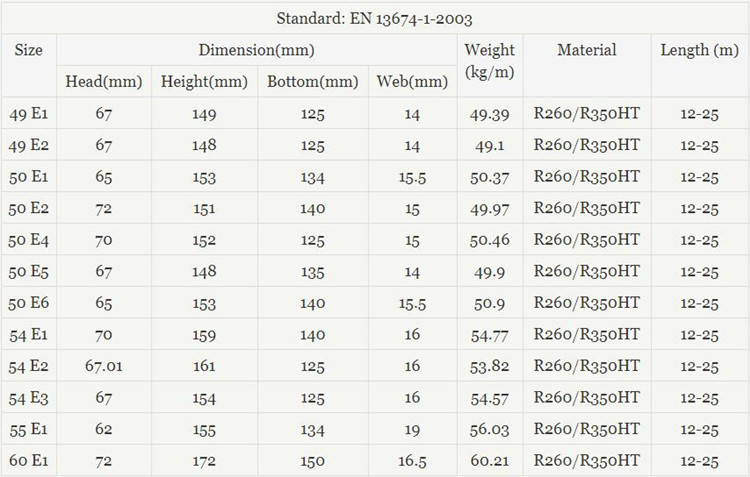 11. Grooved railway track