Joint bar railroad, also known as railway fish plate, rail joint bar or splicing bar, is a metal bar that is bolted to the ends of two rails to connect them together to form a rail.
Two rail joints are usually used in pairs. One side of each rail joint bar is configured as the rail web side. Mechanical fasteners install the joint bar to the side of the web. The pair of keys in the web and the joint bar transmit the railroad load through the joint and greatly strengthen the rail joint assembly.
Joint Bar Railroad Features:
1. It should connect the rails so that they act as continuous beams with uniform surfaces and alignment.
2. Its anti-deflection ability should be as close as possible to the anti-deflection ability of the rail to which it is applied.
3. It should prevent vertical or lateral movement of the rail ends relative to each other, unless otherwise specified, it should allow the longitudinal movement required for expansion and contraction.
4. It should be as simple as possible and have as few parts as possible to be effective.
5. Each rail joint, insulating joint and compromise joint should have a reasonable design and the size of the rail suitable for its application.
6. In the worn rail area, a high clearance joint bar can be used to provide additional rim clearance.
Hot-selling Rail Joint Bars:
Rail joint products
Aplication
Material
Standard
Unit weight
Surface treatment

SJ50 Fish plate

50#

11.59kg/pc

Plain

SJ43 Fish plate

50#

10.16kg/pc

Plain

TJ57 Fish plate

45#

17.36kg/pc

Plain

S30 Fish plate

50#

5.8kg/pc

CR135 Fish plate

CR135 Crane rail

50#

ASTM-43

Plain




Hot-dip galvanized

CR171 Fish plate

CR171 Crane rail

50#

ASTM-43

16.0kg/pc

Plain




Hot-dip galvanized

S49 Forged




Fish plate

Q345

UIC49

8.60kg/pc

sandblasted+oiled

S60 Forged




Fish plate

Q345

UIC60

14.50kg/pc

sandblasted+oiled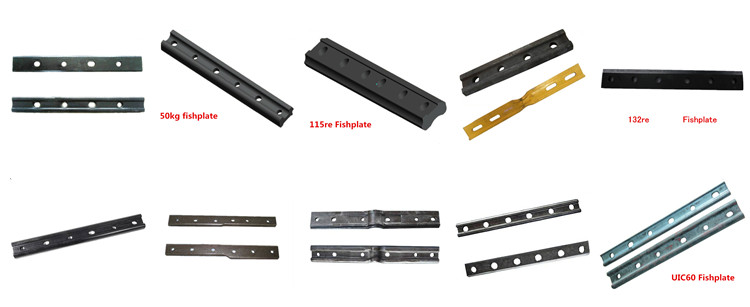 Joint Bar Railroad Standards:
1. China standard rail joint (fishplate)
Standard: TB/T2345-2008
Material: Chinese steel grade 55#
Size: 43KG, 50KG, 60KG, 75KG
Tensile strength Rm: ≥785 Mpa
Yield strength Rel / Rr0.2: ≥520 Mpa
Elongation A: ≥9%
Area Z reduction: ≥20%
Brinell hardness HBW10 / 3000: HBW 227-388
Cold bending d=3a: 30 degrees, no cracks
2. AREMA standard rail joint (fishplate)
Standard: AREMA 2010
Material: Chinese steel grade 55#
Size: 115RE, 119RE, 132RE, 136RE, 141RE
Tensile strength Rm: ≥690 Mpa
Yield strength Rel/Rr0.2: ≥480 Mpa
Elongation A: ≥12%
Reduction of area Z: ≥25%
3. BS standard rail joint (fish plate)
Mechanical behavior:
Standard: BS47-1
Material: China Steel 40#
Size: BS75R, BS80A, BS90A, BS100A, BS113A
Tensile strength Rm: 550-650 Mpa
Elongation A: ≥18%
4. UIC (International Union of Railways) standard rail joint mechanical properties:
Standard: UIC864-4 & UIC864-8
Material: China Steel 40#
Size: U79-UIC54, U85-UIC60
Tensile strength Rm: 550-650 Mpa
Elongation A: ≥18%
5.DIN standard rail joint (fishplate)
Standard: DIN5902-1995
Material: Chinese steel grade Q235 or Chinese steel grade Q295
Size: Fl10, Fl14, Fl18, Fl20, Fl30, Fl33, Fl41-49, Fl41-54
Mechanical properties (Fl10-Fl20)
Tensile strength Rm: ≥375 Mpa
Yield strength Rel / Rr0.2: ≥235 Mpa
Elongation A: ≥21%
Mechanical properties (Fl30-Fl41-54)
Tensile strength Rm: ≥390 Mpa
Yield strength Rel / Rr0.2.: ≥295 Mpa
Elongation A: ≥23%
6. South American rail joint (fish plate)
Standard: According to customer requirements
Material: Chinese steel grade 50#
Size: 75LBS ASCE, 75LBS BSS, 80LBS ASCE, TJ BS80A
7. Africa Railway Joint (Fish Plate)
Mechanical behavior:
Standard: According to customer requirements
Material: Chinese steel grade 50#
Size: 85 pounds, 85 pounds-80 pounds