The railway nut bolt is one of the most important railway fasteners in the railway system. Generally, railway bolts are used to fasten the ends of railway tracks together at joints.
The size of railway bolts and nuts varies with the requirements of the rail section. The proper diameter and length of railway bolts can be determined by consulting the applicable railway standards.
Advantages of railway bolts:
1. The hole preparation is the same as traditional/old rail bolts
2. Convenient and quick to use.
3. Save time and money
The Functions of Railway Nut Bolt:
1. Connect and fasten through the holes of the fish plate to connect the two rails together
2. As a component of the railway fastening system, it is used to connect and fasten rails and rail clips (or rubber pads, rail clamps) or sleeper plates and sleepers.
3. They are usually used in pairs, sometimes together with washers or plastic pins when needed, for the reinforcement of railway tracks.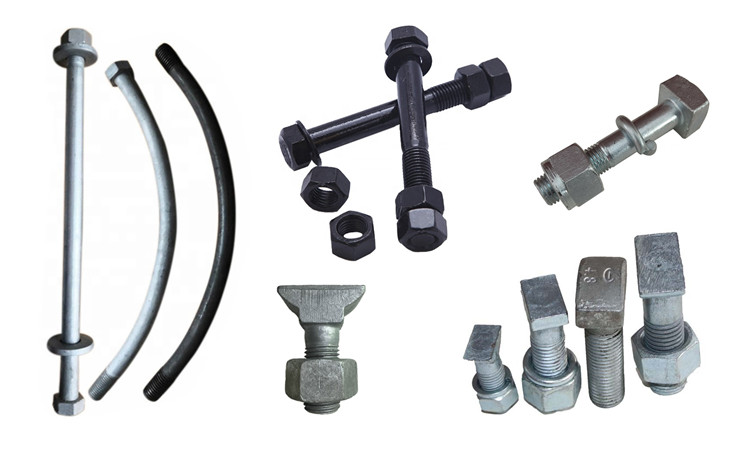 Types of railway bolts and nuts:
Railway bolts and nuts can be divided into the following types, for example, round head oval neck railway bolts, diamond neck railway bolts, railway bolts NF F50-008, fishtail bolts, Russian standard railway bolts, clamp bolts, clip bolts and insert bolts It is used for special railway bolts such as Russian foundation bolts and T-bolt clamps.
Railway Nut Bolt Application Rules:
According to the relevant railway track standards, each rail fish plate needs to be bolted, and at least two railway bolts in each rail are tightened to approximately 400 foot pounds of torque, which will generate 25,000 to 30,000 pounds of tension in the railway bolts. .
1. Railway bolts in use must be of appropriate size and fastened in place.
2. Railway bolts must be installed together with AREMA spring washers, and nuts must be installed against the spring washers.
3. Railway bolts must be installed, and nuts must be installed alternately on the inside and outside of the rail.
4. When the railway bolt and joint bar are removed, the connection area of the rail and the contact surface of the joint bar must be cleaned, and the joint bar and bolt threads must be lubricated.
5. Safety standards require that it allows operation on all rails with missing or invalid rail bolts
6. The railway bolt is composed of a shaft with a wooden thread on one side and a metal thread on the other side. It also has a 7mm hexagon as part of the shaft. It can be easily screwed into the end grain or into the column using a wrench or ring wrench.