Metal Fish Plate for steel rails, also known as rail joint bar or splicing bar, is a typical rail component in railway track systems. Fish bolts are railway fasteners that work with rail fishplates.
Steel rail fishplates are bolted to the ends of two rails to connect them together, and are widely used in light rails, heavy rails and crane rails.
Metal Fish Plate Application:
Railway fishplates are widely used in heavy rail, light rail and crane rails, and railway fishplates are different for different standard rails. More than 30 kinds of railway fishplates can be produced according to different standards:
Light rail fish plate: 8kg, 9kg, 12kg, 15kg, 18kg, 22kg, 24kg, 30kg
Railway fish plate for heavy rail: 38kg, 43kg, 50kg, 60kg
Railway fish plate for crane rail: QU70, QU80, QU100 and QU120
Types of railway fish plate
1.Bolted fish plate
For railway fishplates, bolt connections are usually used to connect the rails together before welding.
2.Compromised fish plate
For connecting two rails with different rail sections, compromise joints are often used.
3. Insulated fish plate
Insulated rail rail joints are always used as bonded or non-bonded joints.
4.Joggled fish plate
Joggled fishplates are used for temporary welding of railway tracks.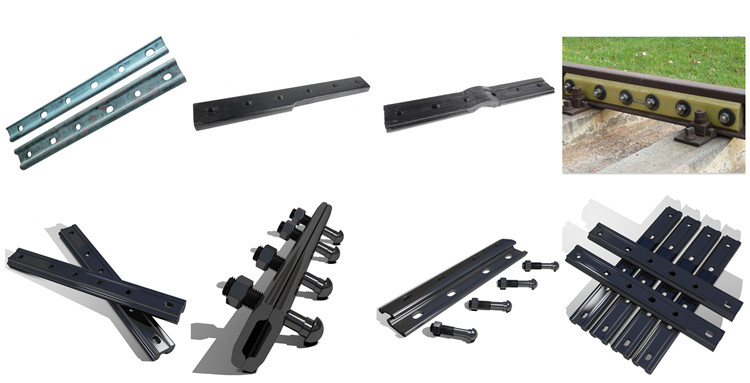 Hot fish plate:
Standard

Type

Length/Diameter

Weight /Material

AREMA 2007

115RE

4 hole-24"

17.04Kg

45# chemical

115RE

6 hole-36"

25.56Kg

composition(%):

132-136RE

4 hole-24"

17.75Kg

C: 0.42-0.50

132-136RE

6 hole-36"

26.63Kg

Mn: 0.50-0.80

UIC864

UIC60

4 hole-630/Φ26

18.07Kg

Si: 0.17-0.37

UIC60

4 hole-600/Φ28

17.47Kg

Cr: ≤0.25

UIC60

4 hole-630/Φ25

18.1Kg

P: ≤0.035

UIC54

4 hole

14.34Kg

S: ≤0.035

UIC54

6 hole-800

19.94Kg

BS 47-1

BS75R

4 hole

6.56Kg

BS60A

4 hole

5.61Kg

BS80A

4 hole

6.5Kg

BS90A

685.8/Φ26

13.23Kg

50# chemical

BS90A

792.9/Φ26.2

15.34Kg

composition(%):

BS100A

4 hole

C: 0.62-0.70

90/91LB

4 hole

18.08Kg

Mn: 0.50-0.80

90/91LB

6 hole

19.9Kg

Si: 0.17-0.37

AS

50kg

4 hole

14.3Kg

Cr: ≤0.25

50kg

6 hole

19.5Kg

P: ≤0.035

S49

4 hole

9.71Kg

S: ≤0.035
Standard of fish plate:
Standard

Type

Length/Diameter

Weight /Material

AREMA 2007

115RE

4 hole-24"

17.04Kg

45# chemical

115RE

6 hole-36"

25.56Kg

composition(%):

132-136RE

4 hole-24"

17.75Kg

C: 0.42-0.50

132-136RE

6 hole-36"

26.63Kg

Mn: 0.50-0.80

UIC864

UIC60

4 hole-630/Φ26

18.07Kg

Si: 0.17-0.37

UIC60

4 hole-600/Φ28

17.47Kg

Cr: ≤0.25

UIC60

4 hole-630/Φ25

18.1Kg

P: ≤0.035

UIC54

4 hole

14.34Kg

S: ≤0.035

UIC54

6 hole-800

19.94Kg

BS 47-1

BS75R

4 hole

6.56Kg

BS60A

4 hole

5.61Kg

BS80A

4 hole

6.5Kg

BS90A

685.8/Φ26

13.23Kg

50# chemical

BS90A

792.9/Φ26.2

15.34Kg

composition(%):

BS100A

4 hole

C: 0.62-0.70

90/91LB

4 hole

18.08Kg

Mn: 0.50-0.80

90/91LB

6 hole

19.9Kg

Si: 0.17-0.37

AS

50kg

4 hole

14.3Kg

Cr: ≤0.25

50kg

6 hole

19.5Kg

P: ≤0.035

S49

4 hole

9.71Kg

S: ≤0.035