The rail wheel is the most important part of the railway locomotive, which can ensure the safety of the railway locomotive from under the floor. As train speeds increase, the acceleration and braking performance of subways and city trains is improving. All this makes the conditions for the use of wheels more and more severe. However, the wheels must always be absolutely reliable.
Rail Wheel Specifications:
Material: 42CrMo, 50Mn, 40CrNiMo, 50steel, ER7, ER8, ER9, AAR-C/B
Size: According to customer's drawing
Production method: forged wheels and cast wheels
Standards: AAR M-101, UIC 811-1, EN13261, GOST 31334, IRIS 16/95, KSR 9220, BS 5892, JIS E4502, TB/T 2945
Testing: chemical analysis, metallography, mechanical analysis, ultrasonic testing, magnetic testing, impact testing, hardness testing, surface quality and size report
Certification: ISO9001, ISO14001, OHSAS18001, AAR, IRIS, TSI
Application: truck wheels, passenger car wheels, locomotive wheels and many other industrial or mining vehicle wheels
Rail Wheel Features:
1. High tolerance
2. High tensile strength
3. Security and flexibility
4. Large wheel pressure and heavy load capacity
5. High strength, durable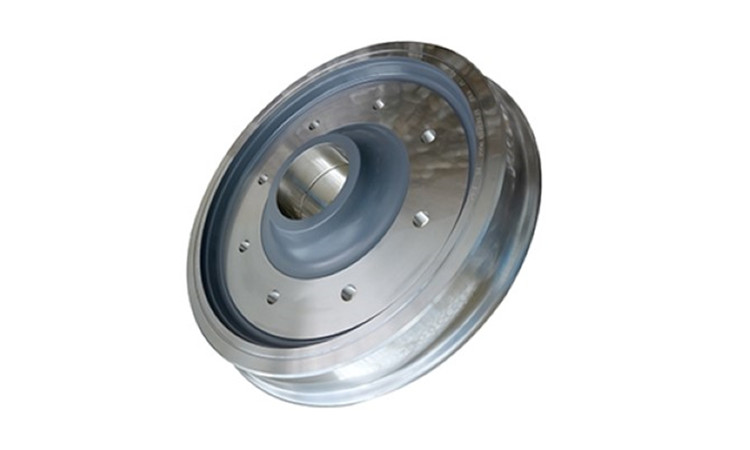 Rail Wheel Types
1) Wagon Wheels
Used for railway freight car bogies, running speed up to 120km/h, wheel load. Truck wheels usually use tread brakes.
There are usually two types of manufacturing, casting and rolling. Use basin wheel webs when casting. For rolling, the web is usually S-shaped.
The wheels are manufactured in accordance with TB/T 2817, AAR M-107/208, BS 5892-3 and EN 13262 standards.
2) Passenger Car Wheels
For railway passenger car bogies, the wheel running speed is about 120km/h or more, and the wheel load is light.
They usually use shaft disc brakes or wheel disc brakes.
Passenger car wheels are manufactured by rolling. According to different braking methods, the webs can be S-shaped, double S-shaped or straight.
In the manufacturing process, it complies with manufacturing standards TB/T 2817/2708, AAR M-107, BS 5892-3 and EN 13262.
3) Locomotive Wheels
There are two types of locomotive wheels: integral wheels and split wheels.
The diameter of locomotive wheels is larger than that of ordinary wheels, usually over 1000mm.
Comply with manufacturing standards TB/T 2817, AAR M-107/208, BS 5892-3, IRS R-34 and EN 13262.