As a Japanese standard railway rail, JIS 60KG rail means its weight per meter is approximately 60 kg (60.6 kg). It belongs to heavy rail, not only used for railway construction, but also used for cranes and port crane rails.
60kg Rail Specifications:
Weight: 60.80kg/m
Material: U71Mn/U75VX
Length: 5m~12m
Rail height: 176mm
Bottom width: 150mm
Head width: 73mm
Web thickness: 16.5mm
Matrials: 55Q, 50Mn, U71Mn
Standard: JIS E1103-91/JISE 1101-93
60KG Rail Manufacturer:
Kingrail Parts is a steel rail manufacturer from China, sometimes we store JIS standard rails. Such as JIS 60kg steel rail, 50kg steel rail and other heavy-duty rails of different standards and specifications. Welcome to consult.
60kg Rail Drawings: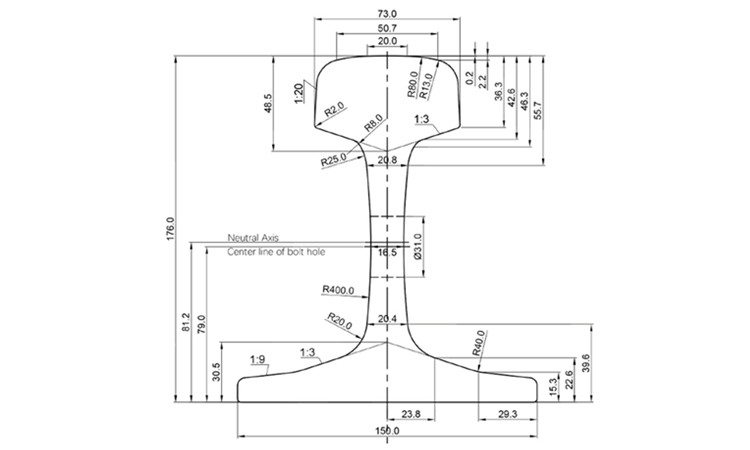 60kg Rail:
Parameters

type

weight (kg/m)

material

length (m)

60Kg

60.80

U71Mn/U75VX

12m-25m

rail height (mm)

bottom width (mm)

head width (mm)

web thickness (mm)

176

150

73

16.5
Other Heavy Rail:
Heavy Steel Rail

Size

Rail Height

Bottom Width

Head Width

Web Thickness

Weightkg/m

38kg

134

114

68

13

38.733

43kg

140

114

70

14.5

44.653

50kg

152

132

70

15.5

51.514

60kg

176

150

73

16.5

60.8

75kg

192

150

75

20

74.64