ASCE Rail is a type of rail defined by the American Society of Civil Engineering. It is mainly used for light transportation or light rail such as temporary traction track in forest areas, mines and construction sites.
ASCE rail dimensions are usually specified in weight per yard. For example, ASCE85 stands for 85 pounds per yard. ASCE85 rail and ASCE60 rail are very popular products. AGICO has 25lb/yd to 85lb/yd of ASCE rail inventory and other rails for sale.
ASCE rails have a T-rail profile and a flat bottom. Its height is equal to the width of the base for each weight. It has a fixed proportion of 42%, 21% and 37% of the weight of the head, web and foot of the given section, respectively.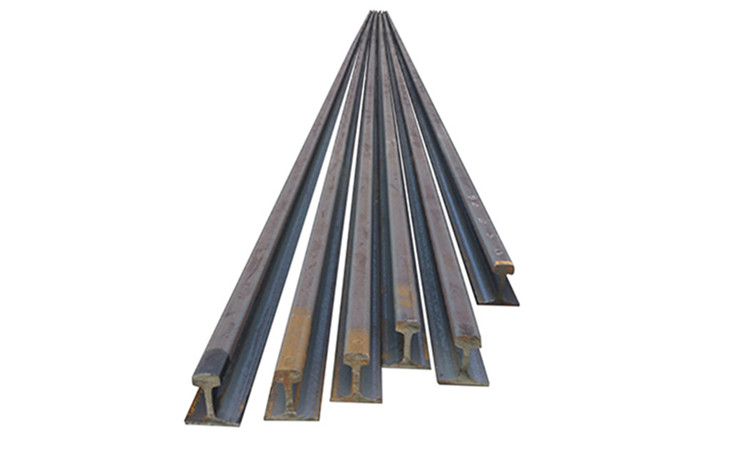 ASCE Rail Specifications:
Type: light rail
Standard: United States (ASTM/AREMA)
Material: 900A/1100
Nominal

Weight

Per Yard

Type

of Rail

DIMENSIONS IN INCHES

SECTION DESIGNATION

HT

BW

HW

W

HD

FD

BD

E

12 lb.

ASCE

2

2

1

3/16

9/16

1 3/32

11/32

57/64

-

-

-

16 lb.

ASCE

2 3/8

2 3/8

1 11/64

7/32

41/64

1 23/64

3/8

1 1/16

-

-

-

20 lb.

ASCE

2 5/8

2 5/8

1 11/32

1/4

23/32

1 15/32

7/16

1 11/64

-

-

-

25 lb.

ASCE

2 3/4

2 3/4

1 1/2

19/64

25/32

1 31/64

31/64

1 15/64

-

-

-

30 lb.

ASCE

3 1/8

3 1/8

1 11/16

21/64

7/8

1 23/32

17/32

1 25/64

-

-

-

35 lb.

ASCE

3 5/16

35/16

13/4

23/64

61/64

1 25/32

37/64

1 15/32

-

-

-

40 lb.

ASCE

3 1/2

3 1/2

1 7/8

25/64

1 1/64

1 55/64

5/8

1 9/16

-

-

-

45 lb.

ASCE

3 11/16

3 11/16

2

27/64

1 1/16

1 31/32

21/32

1 41/64

-

-

-

50 lb.

ASCE

3 7/8

3 7/8

2 1/8

7/16

1 1/8

2 1/16

11/16

1 23/32

-

-

-

55 lb.

ASCE

4 1/16

4 1/16

2 1/4

15/32

1 11/64

2 11/64

23/32

1 103/128

-

-

-

60 lb.

ASCE

4 1/4

4 1/4

2 3/8

31/64

1 7/32

2 17/64

49/64

1 115/128

6040

60AS

603

65 lb.

ASCE

4 7/16

4 7/16

2 13/32

1/2

1 9/32

2 3/8

25/32

1 31/32

6540

65AS

653

70 lb.

ASCE

4 5/8

4 5/8

2 7/16

33/64

1 11/32

2 15/32

13/16

2 3/64

7040

70AS

701

75 lb.

ASCE

4 13/16

4 13/16

2 15/32

17/32

1 27/64

2 35/64

27/32

2 15/128

7540

75AS

753

80 lb.

ASCE

5

5

2 1/2

35/64

1 1/2

2 5/8

7/8

2 3/16

8040

85AS

851

85 lb.

ASCE

CAN.PAC

5 3/16

5 1/8

5 3/16

5

2 9/16

2 1/2

9/16

9/16

1 35/64

1 7/16

2 3/4

2 11/16

57/64

1

2 17/64

2 11/32

8540

8524

85AS

85CP

851

-

90 lb.

ASCE

ARA-A

ARA-B

5 3/8

5 3/8

5 17/64

5 3/8

5 3/8

4 49/64

2 5/8

2 9/16

2 9/16

9/16

9/16

9/16

1 19/32

1 15/32

1 39/64

2 55/64

3 5/32

2 5/8

59/64

1

1 1/32

2 45/128

2 37/64

2 11/32

9040

9020

9030

90AS

90RA

90RB

-

902

905

100lb.

ASCE

ARA-A

ARA-B

AREA

5 3/4

6

5 41/64

6

5 3/4

5 1/2

5 9/64

5 3/8

2 3/4

2 3/4

2 21/32

2 11/16

9/16

9/16

9/16

9/16

1 45/64

1 9/16

1 45/64

1 21/32

3 5/84

3 3/8

2 55/64

3 9/32

31/32

1 1/16

1 5/64

11/16

2 65/128

2 3/4

2 65/128

2 45/64

10040

10020

10030

10025

100AS

100RA

100RB

100RE

-

1003

1002

10025

115lb.

AREA

6 5/8

5 1/2

2 23/32

5/8

1 11/16

3 13/16

1 1/8

2 7/8

11525

115RE

1150

132lb.

AREA

7 1/8

6

3

21/32

1 3/4

4 3/16

1 3/16

3 3/32

13228

132RE

1321

136lb.

AREA

7 5/16

6

2 15/16

11/16

1 15/16

4 3/16

1 3/16

3 3/32

13622

136RE

13637