136RE rail is a very popular rail, a heavy duty rail mainly used for mining tracks. It is produced according to the 136lb railroad standard established by AREMA (American Association of Railroad Engineering and Maintenance). If you are looking for a lighter rail section, the 115RE rail is recommended.
Due to its high hardness, strength, and wear resistance, 136re rails are the best choice for heavy duty lines. It is widely used in the American market where heavy axle load and long cruising range are required.
136RE Rail Specification:
Product name: AREMA 136lb rail, AREMA 136RE rail, TR68 rail
Size: AREMA 136lb rail, AREMA 136RE rail. TR68 rail
Type: Heavy Rail, Crane Rail
Standard: AREMA
Height: 185.70mm
Weight: 67.50kg/m
Length: 12m~25m or other length according to customers' requirement
Grade: High Strength, Intermediate, Standard
Usage: Railway rail, crane rail, mining tracks, automatic warehouse, etc.
136RE Rail Drawing: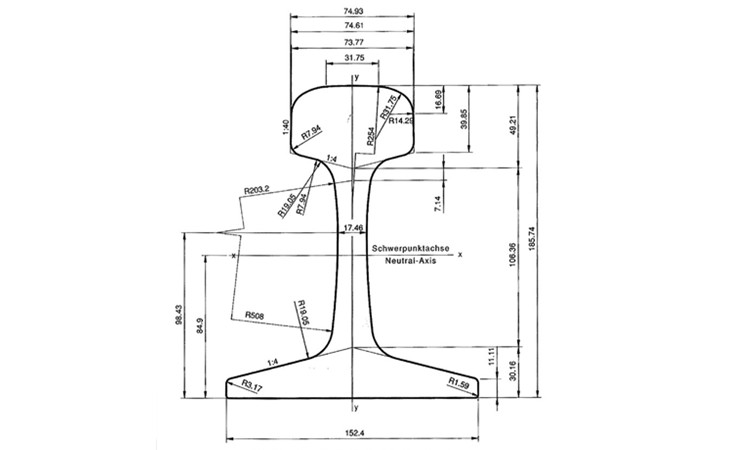 136 RE Rail Dimensions:
| | | | | | | | |
| --- | --- | --- | --- | --- | --- | --- | --- |
| Rail type | Head mm | Height mm | Base mm | Web mm | Weight Kg/m | material | length |
| 136RE | 74.61 | 185.74 | 152.4 | 17.46 | 67.41 | 900A/1100 | 12-25 |
136RE Rail Joint Bar
136RE rail joint bar available: common lengths: 36inch (6 holes), 24inch (4 holes).
136RE Rail Suppliers
As a professional steel rail manufacturer in China, Kingrail parts can supply all kinds of steel rails, including light rails, heavy rails, such as American AREMA 136lb 136RE TR68 steel rails, crane rails of different standards and specifications.