Elastic rail clip
With hard work and determination, Kingrail Parts has become an approved elastic rail clip supplier by the Chinese Ministry of Railways.
Fasteners are one of the important components of railway frames. The main reason for using fasteners is to connect the rails to the sleepers. This fixation is exposed to solid lateral, vertical, and longitudinal forces that increase rapidly with increasing speed. Therefore, the elastic rail clip proved to be the best choice to withstand these forces and thus act as a good fastener.
More importantly, mainly due to the abnormality of the rails and the forces acting on them, there is vibration caused by moving loads. Shock and vibration cause inflexible fasteners to loosen, leading to rapid disintegration of the rails. Therefore, use elastic rail clips to solve these problems. We make versatile elastic rail clips that can apply toe loads that have no problem keeping up with rail position.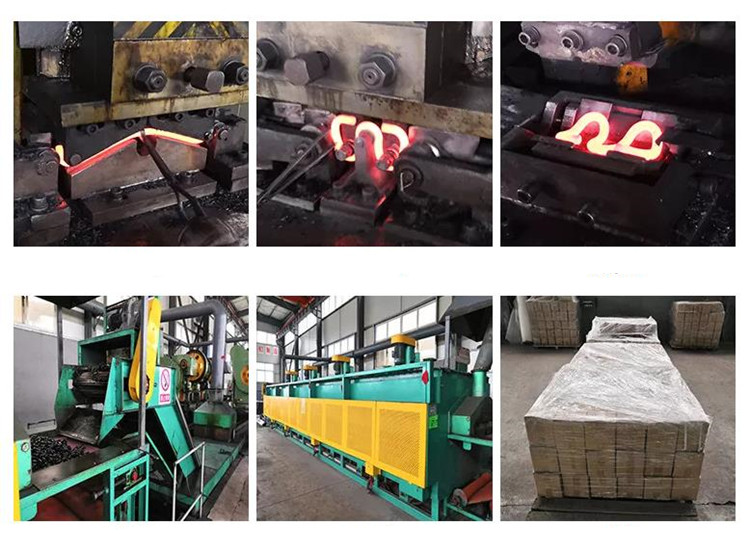 Features of the elastic rail clips we manufacture:
1. Our induction furnace prior to the forging operation has an automatic accept-reject system where the round bars are automatically rejected whenever the temperature changes, resulting in a consistent clip shape and geometry.
2. With our conveyor belt electric hardening and tempering furnace, the temperature is kept constant, thus reducing hardness variation.
3. With conveying air cooling, the contact between the clips after tempering is negligible, resulting in a high quality product.
4. Our automated factory helps eliminate human errors, so our products are of superior quality.
5. Our process is controlled in accordance with IS09001.
6. We have perfect creation components, which makes us a famous manufacturer of elastic rail clips. The clips we configure have low variance, reducing the failure rate during installation, which saves a lot of consumer time.
Manufacturing process:
1. Shearing: Cut a round bar with a length of 350 mm + 0.02 mm without burrs.
2. Turning: Hydrographic copier with automatic material retrieval system.
3. Induction oven: Our induction oven has a cycle time of 4 seconds with an accept-reject box. If the temperature is below 900 degrees, the bar will be rejected, leaving us with a perfectly red-hot bar.
4. Forging: Our induction furnaces generally do not have any temperature changes, so the shape and geometry of the clips remain precise. Since the hardness of the bar does not exceed the temperature at which we forge the bar, it is always above 900 degrees. Therefore, the rejection rate is low.
5. Quenching: The conveying quenching tank consists of stirring, descaling and oil cooling devices, which will not raise the oil temperature by more than 70 degrees Celsius to achieve the required hardness
6. Tempering: Our Heat Transfer Electric Tempering Furnace has four zones to determine a minimum temperature of 550 degrees Celsius. After tempering, we arrange for air cooling through a horizontal conveyor, reducing contact between clips and minimizing hardness variations.
Specification:
| | |
| --- | --- |
| Hardness | 40-44 HRC |
| Toe-Load | 1200-1500 KG |
| Deflection | 13.5 mm |
| Packaging | 50 pieces in a sack |
| Surface Finish | Rust Preventive Oil |