Kingrail Parts can supply a variety of rails, including light rail, heavy rail, crane rails such as 175 lb rails, and crane rails of different standards and specifications.
The 175 LB crane rails are mainly used in the crane industry. The 175-pound steel rail can also be used for large-scale projects, hoisting containers at docks, laying large-scale machinery and equipment transportation lines, etc., and is specially used for gantry cranes. In addition, Kingrail Parts can supply crane rails in other sizes, such as 104 lb rails, 105 lb rails, 135 lb rails, and 171 lb crane rails.
175 lb Rail Specifications:
Name: 175 LB U71Mn Rail
Material: Q235B, 55Q, U71Mn, 50Mn, 45Mn
Standard: YB/T5055-2014, GB 2585-2007
Process: hot rolling
Weight: 175 lbs/yd
Standard Length: 39'
Standard Drilling: 4" X 5" X 6", 1-3/16" diameter. hole
Splice bar length: 34"
Splice bar weight: 72 lbs/pr with hardware: 89 lbs/pr
A325 Hex Bolt: 1-1/8" X 6-1/2"
Drawing: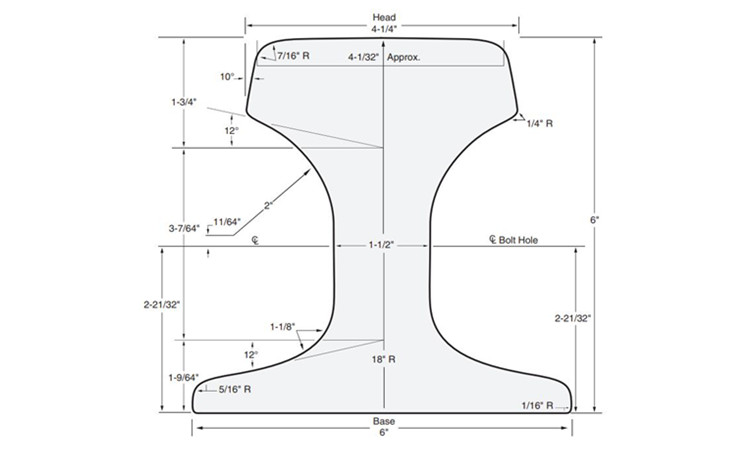 | | |
| --- | --- |
| RAIL | 175 lb. CR |
| Area | 110,45 cm2 17.12 in.2 |
| Kg/m lbs/yd | 86,80 kg/m 175.0 lbs/yd |
| Mom. Inertia | 2923 cm4 70.22 in.4 |
| Mom. Inertia Y-Y | 901 cm4 21.65 in.4 |
| Sec. Mod. Base | 381 cm3 23.28 in.3 |
| Sec. Mod. Y-Y | 118 cm3 7.22 in.3 |
Nominal

Weight

Per Yard

Type of Rail

DIMENSIONS IN INCHES

SECTION DESIGNATION

HT

BW

HW

W

HD

FD

BD

E

104 lb.

CRANE

5

5

2 1/2

1

1 1/2

2 7/16

1 1/16

2 7/16

-

-

-

105 lb.

CRANE

5 3 /16

5 3/16

2 9/16

15/16

1 25/32

2 13/32

1

2 13/16

-

-

-

135 lb.

CRANE

5 3/4

5 3/16

3

1 1/4

1 7/8

2 13/16

1 1/16

2 15/32

-

-

-

171 lb.

CRANE

6

6

4

1 1/4

2

2 3/4

1 1/4

2 5/8

-

-

-

175 lb.

CRANE

6

6

4 1/32

1 1/2

1 3/4

3 7/64

1 9/64

2 21/32

-

-

-