Rail anchors, also known as rail anti-crawlers or rail spring steel clips, are made of one piece spring steel or equivalent, heat treated and designed to eliminate creepage from the rail. Rail anchors are used to be fixed on the underside of the rail bottom plate and supported on the side of the sleeper to prevent longitudinal movement of the rail due to temperature changes or vibrations. It provides a large load bearing surface for the track base and sleepers, avoiding undo cuts and wear, thus extending the life of the sleepers.
The rail anchor can also be clamped to the rail base against the sides of the sleeper, which will force the rail to move the sleeper along the axis of the rail if it tries to slide or expand or contract. Since expansion or contraction generally does not apply enough force to move all the sleepers, the rail will expand or contract in the lateral direction rather than along the axis of the rail. This is the main way to limit the expansion of continuously welded rails.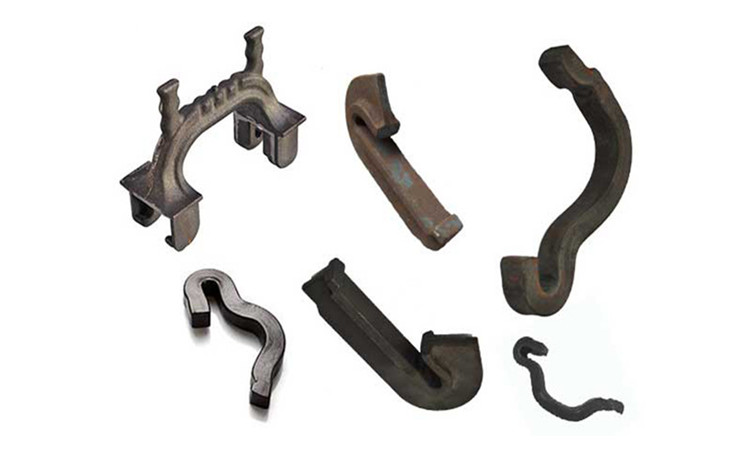 Types of rail anchors:
1. Rail anchors are used for 50kg, 85kg, UIC54, UIC60, 90/91lb, 115RE, 136RE and other rails. We can produce T-shaped or V-shaped rail anchors and other types by forging or casting according to customer requirements.
Rail Anchor Specifications:
Type

Used in 50Kg, 85Kg,90/91LB, 115RE /136RE ,UIC54 & UIC60 rail, or other types upon customers' drawings.

Material

60Si2MnA

45#

QT500-7

Chemical composition(%)

C:0.56-0.64, Mn:0.60-0.90, Si:1.60-2.00, Cr:≤0.35, P:≤0.03, S:≤0.03

C:0.42-0.50, Mn:0.50-0.80, Si:0.17-0.37, Cr:≤0.25, P:≤0.035, S:≤0.035

C:3.60-3.80, Mn:≤0.6, Si:2.50-2.90, P:≤0.08, S:≤0.025

Surface

plain (oiled),color painting, zinc painted or HDG

Standard

AS1085.10-20002 , DIN, ISO-9001
2. Generally speaking, according to our previous production experience, the most commonly used material for the production of rail anchors is 60Si2MnA, and the commonly used rails are 50kg, 70lb, 80lb, 90/91lb, etc.
| | | |
| --- | --- | --- |
| Type | Material | Weight(g/pc) |
| 50Kg | 60Si2MnA | 800 |
| 70LB | 60Si2MnA | 800 |
| 85LB | 60Si2MnA | 800 |
| 90/91LB | 60Si2MnA | 800 |
3. Rail anchors for the Russian market: high-grade ductile iron castings
Russian rail anchors are mostly cast on the railway, and the material is QT400-15. All its relevant mechanical properties are strictly in accordance with the TOCT 7293-85 standard.