Crane Rails Manufacturers
Crane rails are available in lengths ranging from 6m to 12m. Other lengths are available upon request.
Kingrail Parts can manufacture steel grades in a variety of qualities and specifications to suit the crane wheel application and the expected life of the system according to the customer's requirements.
Unfortunately, not all crane rail sections are readily available as the most common sections are rolling. Occasionally, if a rail section is unavailable and no planned rolling dates are scheduled, Kingrail Parts will work with you to suggest an alternative section with similar properties.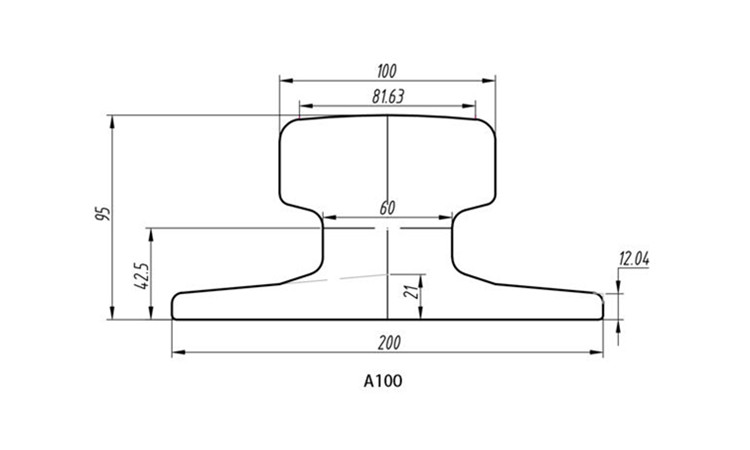 Crane Rails Dimensions:
TEE RAIL SECTION DATA
Nominal

Weight

Per Yard

Type

of Rail

DIMENSIONS IN INCHES

SECTION DESIGNATION

HT

BW

HW

W

HD

FD

BD

E

12 lb.

ASCE

2

2

1

3/16

9/16

1 3/32

11/32

57/64

-

-

-

16 lb.

ASCE

2 3/8

2 3/8

1 11/64

7/32

41/64

1 23/64

3/8

1 1/16

-

-

-

20 lb.

ASCE

2 5/8

2 5/8

1 11/32

1/4

23/32

1 15/32

7/16

1 11/64

-

-

-

25 lb.

ASCE

2 3/4

2 3/4

1 1/2

19/64

25/32

1 31/64

31/64

1 15/64

-

-

-

30 lb.

ASCE

3 1/8

3 1/8

1 11/16

21/64

7/8

1 23/32

17/32

1 25/64

-

-

-

35 lb.

ASCE

3 5/16

35/16

13/4

23/64

61/64

1 25/32

37/64

1 15/32

-

-

-

40 lb.

ASCE

3 1/2

3 1/2

1 7/8

25/64

1 1/64

1 55/64

5/8

1 9/16

-

-

-

45 lb.

ASCE

3 11/16

3 11/16

2

27/64

1 1/16

1 31/32

21/32

1 41/64

-

-

-

50 lb.

ASCE

3 7/8

3 7/8

2 1/8

7/16

1 1/8

2 1/16

11/16

1 23/32

-

-

-

55 lb.

ASCE

4 1/16

4 1/16

2 1/4

15/32

1 11/64

2 11/64

23/32

1 103/128

-

-

-

60 lb.

ASCE

4 1/4

4 1/4

2 3/8

31/64

1 7/32

2 17/64

49/64

1 115/128

6040

60AS

603

65 lb.

ASCE

4 7/16

4 7/16

2 13/32

1/2

1 9/32

2 3/8

25/32

1 31/32

6540

65AS

653

70 lb.

ASCE

4 5/8

4 5/8

2 7/16

33/64

1 11/32

2 15/32

13/16

2 3/64

7040

70AS

701

75 lb.

ASCE

4 13/16

4 13/16

2 15/32

17/32

1 27/64

2 35/64

27/32

2 15/128

7540

75AS

753

80 lb.

ASCE

5

5

2 1/2

35/64

1 1/2

2 5/8

7/8

2 3/16

8040

85AS

851

85 lb.

ASCE

CAN.PAC

5 3/16

5 1/8

5 3/16

5

2 9/16

2 1/2

9/16

9/16

1 35/64

1 7/16

2 3/4

2 11/16

57/64

1

2 17/64

2 11/32

8540

8524

85AS

85CP

851

-

90 lb.

ASCE

ARA-A

ARA-B

5 3/8

5 3/8

5 17/64

5 3/8

5 3/8

4 49/64

2 5/8

2 9/16

2 9/16

9/16

9/16

9/16

1 19/32

1 15/32

1 39/64

2 55/64

3 5/32

2 5/8

59/64

1

1 1/32

2 45/128

2 37/64

2 11/32

9040

9020

9030

90AS

90RA

90RB

-

902

905

100lb.

ASCE

ARA-A

ARA-B

AREA

5 3/4

6

5 41/64

6

5 3/4

5 1/2

5 9/64

5 3/8

2 3/4

2 3/4

2 21/32

2 11/16

9/16

9/16

9/16

9/16

1 45/64

1 9/16

1 45/64

1 21/32

3 5/84

3 3/8

2 55/64

3 9/32

31/32

1 1/16

1 5/64

11/16

2 65/128

2 3/4

2 65/128

2 45/64

10040

10020

10030

10025

100AS

100RA

100RB

100RE

-

1003

1002

10025

115lb.

AREA

6 5/8

5 1/2

2 23/32

5/8

1 11/16

3 13/16

1 1/8

2 7/8

11525

115RE

1150

132lb.

AREA

7 1/8

6

3

21/32

1 3/4

4 3/16

1 3/16

3 3/32

13228

132RE

1321

136lb.

AREA

7 5/16

6

2 15/16

11/16

1 15/16

4 3/16

1 3/16

3 3/32

13622

136RE

13637
CRANE RAIL SECTION DATA
Nominal

Weight

Per Yard

Type of Rail

DIMENSIONS IN INCHES

SECTION DESIGNATION

HT

BW

HW

W

HD

FD

BD

E

104 lb.

CRANE

5

5

2 1/2

1

1 1/2

2 7/16

1 1/16

2 7/16

-

-

-

105 lb.

CRANE

5 3 /16

5 3/16

2 9/16

15/16

1 25/32

2 13/32

1

2 13/16

-

-

-

135 lb.

CRANE

5 3/4

5 3/16

3

1 1/4

1 7/8

2 13/16

1 1/16

2 15/32

-

-

-

171 lb.

CRANE

6

6

4

1 1/4

2

2 3/4

1 1/4

2 5/8

-

-

-

175 lb.

CRANE

6

6

4 1/32

1 1/2

1 3/4

3 7/64

1 9/64

2 21/32

-

-

-