Railroad and Anchor
Rail anchors or anti-crawlers are used where additional creep-resistant arrangements are required for the fastening system, which are made of a one-piece construction from spring steel clips attached to the underside of the rail base plate and supported on the sides of the sleepers To prevent longitudinal movement, whether it is temperature change or vibration, rail wear can be avoided, thereby extending the service life of the sleeper. When driven in the rails, the rail anchors firmly grip the rails.
Rail Anchor Type:
1. T or V rail anchors for 50Kg, 85Kg, 90/91LB, 115RE/136RE, UIC54 and UIC60 rails.
2. Rail anchors made of 60Si2MnA for 50kg, 70lb, 80lb, 90/91lb and other rails.
3. Rail anchors for the Russian market: high-grade ductile iron castings.
4. Customer special customization
Location of Railway Anchors:
Typically, railroad anchors are used in certain locations on the railroad. When using anchors, taking a 39-foot rail as an example, 8 rail anchors are generally recommended, as shown in the figure below. The number of rail anchors may increase with increasing steep slopes.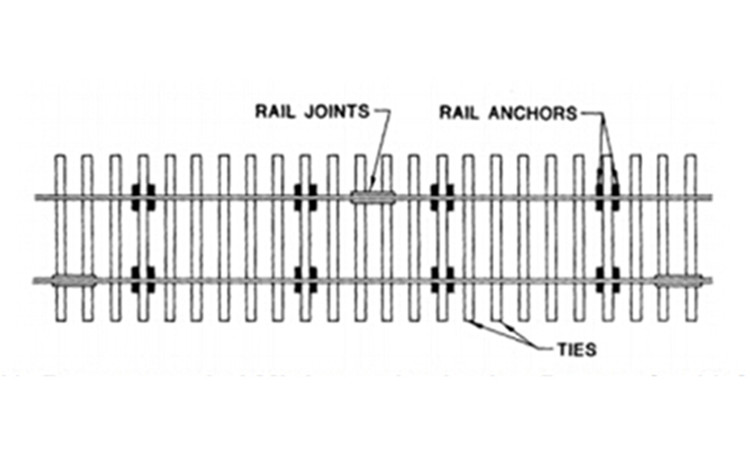 1. Rail anchors are used on rails close to exposed deck bridges, and every third tie should be box-anchored at least two rail lengths away from both ends of the bridge.
2. For railway crossings where anchors are used, every three sleepers shall be box anchored at least two rail lengths in all directions from the crossing.
3. Railway anchors are optional for railway turnouts. Helps correct geometry issues when using anchors in turnouts.
Rail Anchor Installation Guide:
1. The rail anchor should be located on the gauge side of the rail base against the same connecting surface on the opposite rail.
2. The rail anchors must hold the rail base tightly and securely and fully support the sleeper face.
3. When the support of the rail anchor to the sleeper is disturbed, a new rail anchor and sleeper will be required.
4. Rail anchors cannot be moved by driving them along the rail.
5. When using the anchor, keep the sleeper straight.