136RE rail is a rail product designed and produced according to the American AREAM standard. Similar to 90lbs rails, 115RE rails, 132RE rails, it can be used in railway construction for heavy duty rails and crane rails. The 136RE rail weighs 67.41 kilograms per meter, which equates to 136 pounds per yard, hence the name 136 pound rail or 136 lb rail.
136RE Rail Dimensions:
| Type | Head Width(mm) | Rail Height(mm) | Base Width(mm) | Web Thickness(mm) | Weight(kg/m) |
| --- | --- | --- | --- | --- | --- |
| 136RE(136lb) | 74.61 | 185.74 | 152.4 | 17.46 | 67.41 |
Length: 12m~25m
Grade: R260/R350HT
Material: 55Q U71MN SS 900A
Weight: 67.41 kg/m, 136 lb/yd
Height: 185.74mm

Scope of application: railway track
Used or not: new
Certificate: ISO9001:2008
Standards: ASTM, AREMA 2001
136RE rail drawing: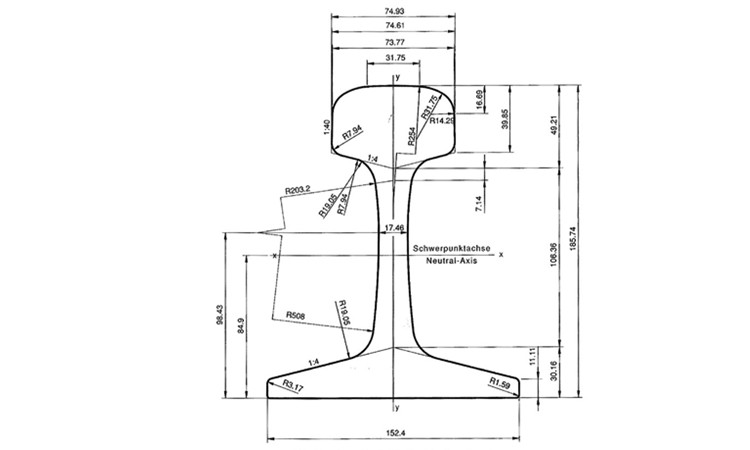 The end face shape of the 136 RE rail adopts the T-section with the best bending resistance, which is composed of three parts: rail head, rail waist and rail bottom.
In order to make the rail better withstand the force from all directions, the necessary strength conditions are guaranteed. In order to make the rail better withstand the forces from all directions and ensure the necessary strength conditions, the 136lb rail is designed as a heavy duty rail with sufficient height, the rail height is 185.74mm. The head and bottom of the 136-pound rail are designed with sufficient area and height, and the waist thickness reaches 17.46mm.
The length of 136RE rails produced by Kingrail Parts is generally between 12-25 meters, and can also be customized according to customer needs.