The 60E1 (UIC60) rail model is manufactured according to the European standard EN 13674-1. This is a T-section rail (flat-bottomed rail) mainly used for medium and heavy traffic.
60E1/UIC60 rail has the characteristics of good ductility, high fatigue strength and moderate fracture toughness. It is a very popular rail. It is widely used in high-speed railways in France and Germany.
UIC60 Rail Specification:
Material: R200, R260, R260MN, R350HT
Weight: 60.21kg/m
Length: 12-25m
Grade: 900A/1100
Hardness: R260, R320
Standard: BS, EN 13674-1
Bolt hole diameter: 30mm
Type: Heavy Rail
Certificate: ISO9001:2008
Application: railway transportation
Dimensions of UIC60 Rail:
Type of Rail

Standard

Dimensions (mm)

Section S

Mass m

H

B

C

D

E

cm²

kg/m

European standard EN 13674-1

60E1 (UIC60)

EN 13674 - 1

172,00

150,00

72,00

51,00

16,50

76,70

60,21
Drawings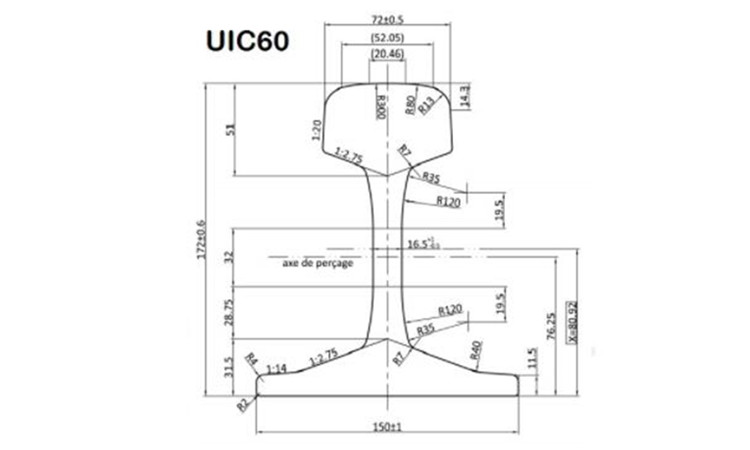 Steel Rail Supplier:
Kingrail Parts is a professional rail manufacturer in China. We can produce standard rails and hanging rails of various specifications. Welcome to consult.