The rail 49E1 (S49) is manufactured according to the European standard EN 13674-1 and is widely used in the construction of railway tracks. It is a T-rail (flat bottom rail) with a mass of 49.39 kg per meter.
Specification:
Size: 49E1 rail
Length: 5m~25m or other lengths according to customer requirements
Material: R200, R260, R260MN, R350HT
Standard: EN 13674-4
Uses: railway transportation, cranes, mine tracks, automated warehouses, etc.
Type of Rail

Norma

Dimensiones mm

Section S

Masa m

H

B

C

D

E

cm²

kg/m

European standard EN 13674-1

49E1 (S49)

EN 13674 - 1

149,00

125,00

67,00

51,50

14,00

62,92

49,39
49E1 Rail Drawings: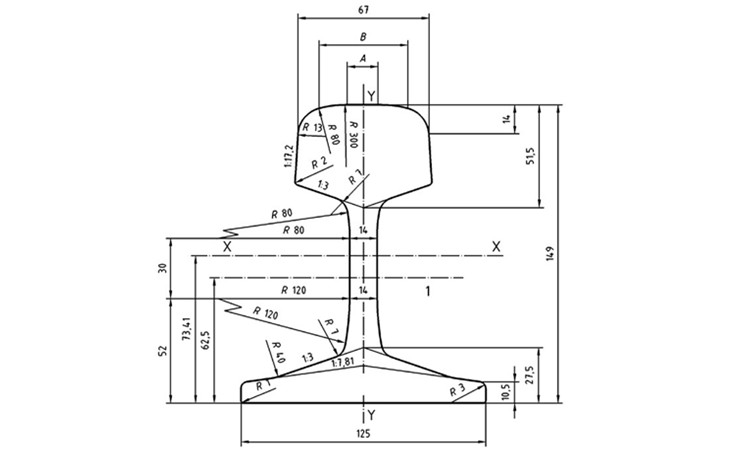 49E1 Rail Suppliers
Kingrail Parts can supply all kinds of rails, including light rail, heavy rail, crane rail, and other rails of different standards and specifications, such as EN standard 49E1 rails.
49E1 rails are mainly used for transporting railway rails and can also be used for underground mining. Glory Rail can also provide EN standard rails, including 60E1 rails, UIC60 rails, 54E1 rails, UIC54 rails, etc.