The QU80 rail is a crane rail. U71Mn QU80 crane rail is mainly used in the crane industry. The QU80 crane rail can also be used for large-scale projects, hoisting containers at the wharf, etc. It is specially used for gantry cranes.
Kingrail Parts can also supply other specifications of crane rails, such as QU70 crane rail, QU100 crane rail and QU120 crane rail.
QU80/KP80 Crane Rail Specifications:
Rail height: 130mm
Bottom width: 130mm
Head width: 80mm
Waist: 32mm
Length: 12m
Material: U71Mn
Weight: 63.69kg/m
Standard: YB/T5055-2014
Application: gantry crane, large-scale engineering, wharf, etc.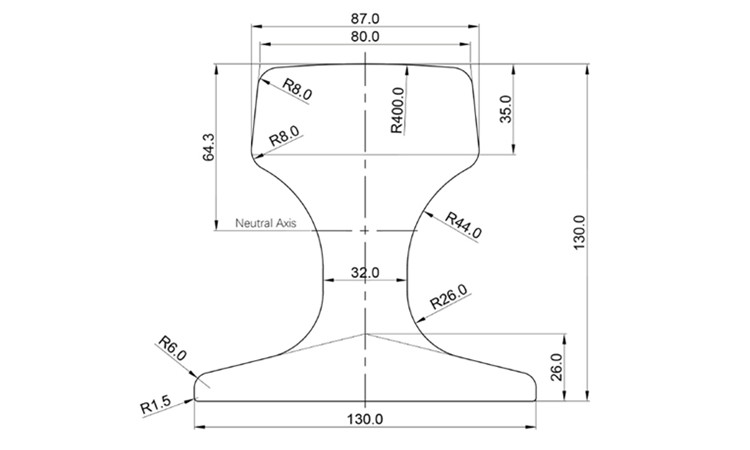 QU80 Crane Rail Suppliers:
As a well-known QU80 rail supplier in China, Kingrail Parts keeps a large number of QU80 rails in stock all the year round, and can provide cutting and stamping services for QU80 rails.
QU80 Rail Specifications:
Parameters

type

weight (kg/m)

material

length (m)

QU80

63.69

U71Mn

12

rail height (mm)

bottom width (mm)

head width (mm)

web thickness (mm)

130

130

80(87)

32
Other Crane Rail Specifications:
Crane Rail

Size

Rail Height

Bottom Width

Head Width

Web Thickness

Weightkg/m

QU70

120

120

70(76.5)

28

52.80

QU80

130

130

80(87)

32

63.69

QU100

150

150

100(108)

38

88.96

QU120

170

170

120(129)

44

118.10